Did you know that you can paint a lampshade? I didn't.  For a while I had been collecting lampshades thinking that I would recover them, eventually, of course that never happened. But I did have a pair of lamps that I loved.  They had terrific lampshades on them, but they were dark and I wanted something lighter and brighter.
Here's what they looked like.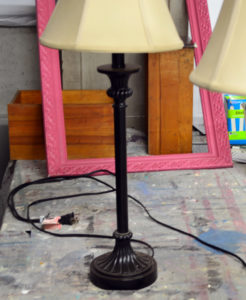 Not a great picture but you can seem the dark brown base and dark beige shade.
The first step is always prep work. They were vacuumed first and then  lightly sprayed with water. They were then perched on top of another lamp base for easier painting.
I used Annie Sloan Pure White chalk paint for the shade and cut it with about 20% water.  Because the lampshade was on top of another base,  I was able to paint it more easily.  It was so much easier to hang on to and it spun, no walking around needed.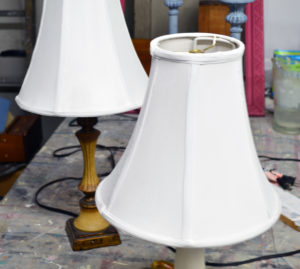 Give it plenty of dry time between  coats and depending on how dark your shade is, 2-3 coats should be enough.  Of course if you are going darker with your color choice 1-2 may be plenty.
With the lampshade done I decided to tackle the base too. For that I decided to use Valspar's Chalky Paint in Sherwin Williams Somerset Grey.   I didn't want full coverage here so I used a very light hand while painting it and then to add a bit more interest I used some Rub-n-Buff in gold.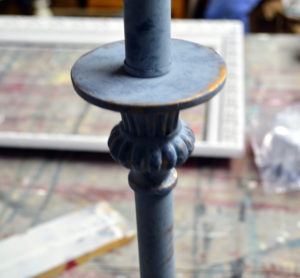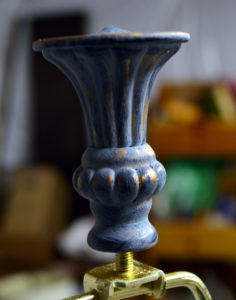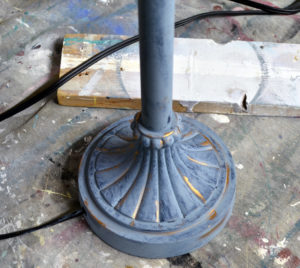 I am very happy with the way they turned out and they go great with my decor.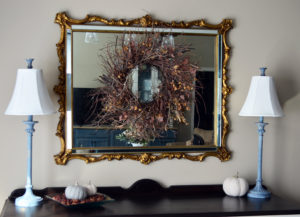 If you have any questions or comments just let me know in the comment box below.